We sat in a row along Linton's porch step at Gecko Creek wilderness lodge. The silence was broken by the wind, the occasional stomach gurgle, and swallow.
In fact, come to think of it, I'd never thought of how loud my swallows actually were. There I was, drinking my bottle of 28-year-old red wine and I was fixated on how to minimize the sound of the wine sliding down my throat. I found this all too funny and started to giggle.
You ever start to giggle when you know you shouldn't? Like, when a friend pukes? Or an elderly family member trips? Like: you KNOW you shouldn't, but the thought sends you into even more giggles and soon tears are streaming down your face and you feel like you might pee in your pants for no other reason than you're a little drunk on a savannah in South Africa waiting for the full moon to rise and everyone else is being deathly quiet. Ha ha.
I tried to stifle my laughter by drinking again and only managed to choke, spitting more red wine out into the wind and causing my idiot-self to laugh even more. The worst part was that no one else was laughing. They were all staring at the ridge of the mountains waiting for the full moon to eventually peak its face over the crest. I tried to find my zen. I calmed down. The wind picked up again and I managed to take a sip without choking. Linton, the owner, took another comparatively noisy drag on his cigarette and winked at me. I'll bet he's seen all types while doing this.
Watching a moon rise over a mountain top in Africa is breathtaking. It is such a simple thing yet the thought that ancestors 20,000 years ago were doing the same thing and that I am joining a tradition of humanity that goes back to the dawn of eyeballs is a really wonderful feeling.
20,000 years ago, some very small humans were living in a cave not too far from where we were perched. On the walls of that cave they had painted animals, humans, leopard prints and hand prints. Over the millennia the paint had faded and much of it had washed away, but earlier that day Jackson and I got a chance to see the "I was here" hand print of some long-forgotten ancestor up close and personal and I felt chills. Say what you will of Shakespeare's lasting power: this hand print was ancient.
We had climbed on top of the cave and listened to the drum beat of an African drum as we watched the sun stain the mountains behind us orange, then red, then purple.
When the tip of the white moon poked its head out from behind the mountain and flooded the valley with a light that felt as bright as a truck's high-beams on a highway at midnight, I squinted and wondered when the last time I had watched a moon rise. I'll glance at the moon, but when had I last really looked at it? The 10 of us watched the moon as it shot out into the night sky, obliterating the stars and illuminating the world with bright blue light.
We went hiking at a waterfall the next morning.
Because Western South Africa is experiencing such a drought the waterfall was little more than a trickle.
It was shockingly cold, though. Jackson and I hiked up the mountain to see the tiny little pool that was fed by the trickle. I counted the tadpoles, frogs and crabs that were swimming aimlessly in the small body of water. It was simple and lovely. We had the top to ourselves for more than an hour before anyone else showed up, then we decided to scram.
Aside from the crappy roads, Gecko Creek was a great place to stop. I'd highly recommend it for anyone looking for a chance to stay in a really nice tent and watch the night sky.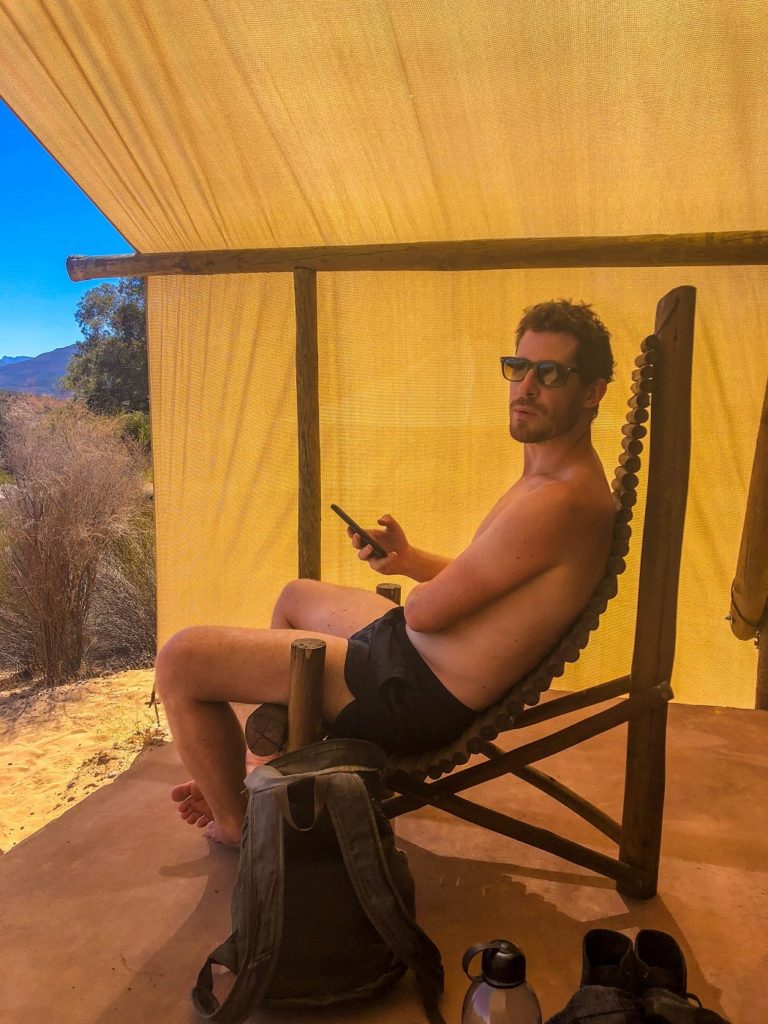 A word to the wise: the roads to get to Gecko Creek are crappy! Hope you have good suspension…