Pinel Island, St. Martin is a small island that sits off the Northeast end of the mainland. It's a great destination for St. Maarten excursions and a good way to spend a day somewhere new. Pinel Island is small, but there are plenty of things to do (or not do!) while on your visit.
Pinel Island Ferry
Your first step is to take the Pinel Island Ferry. For the cost of $12/€10 per person (age plays no factor in cost) you'll get yourself a round trip ticket to Pinel Island and back. You'll need to buy your ticket on the dock with cash only.
Pinel Island Ferry leaves every half hour beginning at 9:30am and ending at 5pm during the high season (4pm during the low season of April-November). For a breakdown of the schedules you can see more here.
The ferry ride will take between 5-10 minutes.
Don't expect a 5-star experience on the Pinel Island Ferry! The ferry itself is a small boat with a wooden board for passengers to sit on. There will be no covering and the boat will leave promptly on the hour and half-hour. First come, first served. If you cannot fit, you'll need to wait on the dock for the next departure (thankfully, there are shaded waiting spots at each end).
The ferry will depart from the Cul-de-Sac port. There is a pretty big parking lot on hard-packed sand that you can leave your car in for the day.
Other Ways to Get to Pinel Island
You don't have to take the Pinel Island Ferry. You can rent a kayak and paddle yourself there on your own!
There is a small shack located in the parking lot of the Cul-de-Sac port where for €15 per person ($17 USD) you can rent a stand-up paddle board or a kayak for the day.
Although we did not take this route when we went in February 2019, our host, Christophe (who is a local), suggested that you can paddle around the edge of St. Martin and then over to the beach at Pinel Island rather than paddling right through the small bay in a straight line to the Pinel Island beach.
Christophe said that there are some stronger currents in the bay and that by sticking to the coast you avoid the worst of the currents and save a lot of energy.
If you do take your own kayak or boat through the middle, there is a small sandbar you can take a breather on. It looked pretty cool from the Pinel Island Ferry ride!
Things to Do on Pinel Island
Find a Beach and Beach Yourself
We spent a couple hours on Pinel, mostly basking in the sun.
Pinel Island has a couple of beaches visitors can get to. The beauty of this island was that there were very few people there when we went (in the high season, no less!). If you are looking for St. Maarten excursions that will take you to quieter beaches, this is a great place to go.
One thing to note: the beach we went to had some topless and nude sunbathers. Christophe mentioned that this happens during the week (and indeed, all over St. Martin!). If you are not comfortable with nudity on the beach, we'd recommend staying near Yellow Beach. If you'd rather try out that all-over tan, check out our post on St Martin's clothing optional beaches!
Nudity on a beach can be jarring for some people, but we wrote about nude beach etiquette in case you do find yourself with some topless sunbathers.
Hike
If looking for things to do on Pinel Island, hiking is an easy and fun activity.
Hiking on Pinel is not very strenuous at all. Pinel island is not nearly as hilly as the mainland and doesn't have very much in the way of obstructions. We saw little kids hiking along with their parents while there and they seemed to be doing just fine.
There are a bunch of criss-crossing trails on the island that are not marked, but easy to follow. One will take you from the Yellow Beach pier you landed on over to the other side of Pinel Island within 10 minutes. The views from higher on Pinel are beautiful and give you glorious views of the bay and the rest of St. Martin.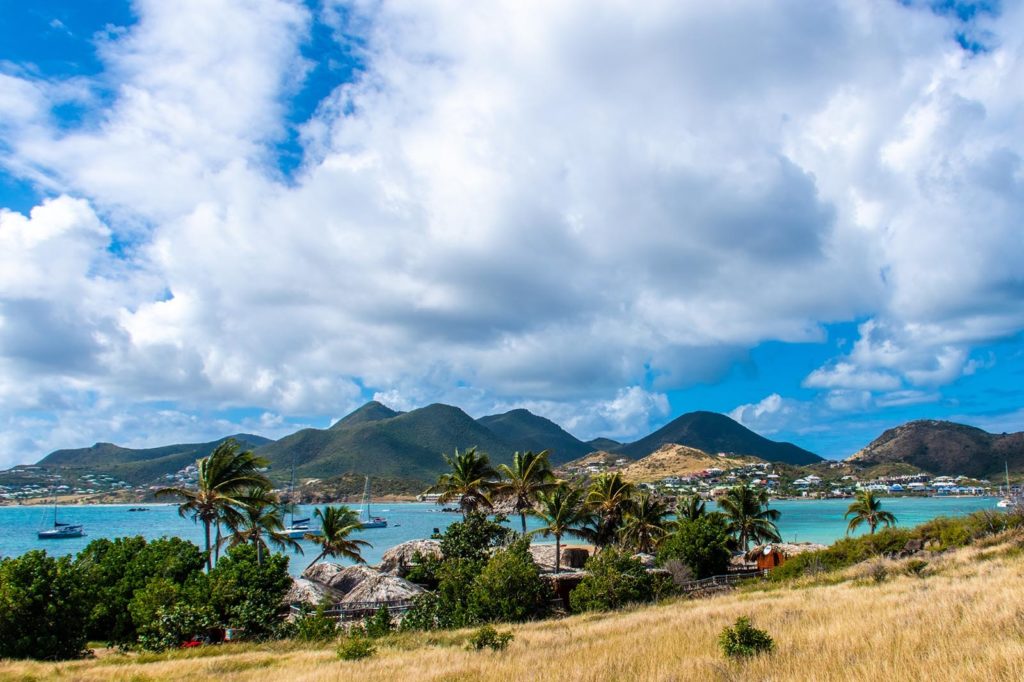 Snorkel
Christophe, our host, recommended snorkeling on Pinel Island. We weren't able to do so as we forgot our gear (d'oh!) but we saw a lot of other people doing it.
Christophe said that there are plenty of little fish you can watch in the water. We found that the surf did have a current when we went swimming in it, but wasn't too choppy at all. You can rent equipment if you're dying to give snorkeling a try – especially if on a St. Maarten excursion and you're making a real day of it.
Eat and Drink
There are 2 bars/restaurants on Pinel Island, St. Martin. They speak English and French and have menus in both languages as well.
Yellow Beach Bar and Restaurant will be the first one to greet you as you come over on the Pinel Island Ferry. They have sun chairs you can rent for €25/$25 for the day. This includes 2 chairs and an umbrella.
We ate lunch here and the food was pretty tasty! Items on the menu will run about $20-$30 per person. Drinks are very reasonably priced.
Yellow Beach did have a couple of tables in the surf if you cared to stand in the water and drink, which some people were doing.
Down the beach only a little is a second bar, Karibuni. This seemed a lot more laid-back than Yellow Beach. We didn't eat there, but wished we had once we discovered it!
Pinel Island, St. Martin also has a small shop you can buy souvenirs and clothing. Don't come on any St. Maarten excursion without enough sunscreen, however! We looked at trying to buy more sunscreen on the island and couldn't find any.
Take Pictures of the Natural Beauty of Pinel Island
Pinel Island is lovely. We took countless pictures of the birds, plants, beaches and iguanas we saw while on the island.
Near Yellow Beach bar, there is a small patch of empty beach where really large iguanas will hang out and beg for food. Tourists will feed them by throwing french fries and pieces of food. They struck me as similar to the pigeons in New York City that tourists will feed.
The iguanas are a great activity on the list of things to do on Pinel Island because these creatures are so cool-looking! They seemed pretty harmless and were really interested in whatever food we could give them. Little kids were running around and throwing food at them while we were there.
Best Time to Go to Pinel Island
I don't know how crowded Pinel Island will get on the weekend, but during the week – when we went – it was pretty chilled out. The beach we hiked across the island to was pretty empty. There was another beach we saw as we hiked back to the Pinel Island Ferry pier that looked completely empty.
I imagine during the low season (April- November) the island gets even fewer visits from tourists. So, if you are looking for a quiet St. Maarten excursion going to Pinel during the low season during the week might mean you have an entire beach to yourself.
During the high season, I imagine this island will get plenty more visitors. I'd avoid going on the weekend if you want ultimate peace and quiet.
Where to Get Dinner
Once you're done with your St Maarten excursion on Pinel Island, chances are you'll want to grab some grub. We ate at a couple of spots nearby the ferry dock back on St. Martin several times each.
Splash Out
Le Taitu is a bistro featuring French and Creole fusion dishes (leaning more heavily towards French in our experience). They have a daily prix fixe menu for $25, and a regular menu with mains ranging from around $18-35. When we were there there was no need to make a reservation. If you get a chance to try the mango mousse, do it.
Local Delights
Chez Vivi is a food truck with outdoor seating. The food is delicious and full of comfort. We had about the best barbecued chicken of our lives here, paired with delicious rice and beans. A plate of food will set you back around $12. If you get lucky there will be some locals hanging out for you to try and practice your french with, or maybe join for an impromptu game of dominoes.