I'll start by stating that the visit to the town of Luderitz is somewhat dull, but the real draw to the coastal city is the ghost town, Kolmanskop, outside the limits. Oh, and the epic 3-hour drive along B4 to Luderitz and Kolmanskop is awesome.
"Luderitz!?" The proprietor at the Padstal we had stopped in said. She practically spat on the floor. "Why would you go there!? It's so windy! Ugh. Don't go. It's terrible; a stupid place."
Jackson and I looked at each other. Uh oh. Did we make a mistake?
Flash forward several hours and our little car was cruising out of the bumpy C roads that cut across the desert from Fish River Canyon and onto the B road to lead us to the coast. The landscape was dramatic! Red desert, white sand, mountains, flat plains, grazing cattle, wild horses, small bushy shrubs! We couldn't stop looking at the scenery with our mouths open. Mistake? This was awesome!
At one point, our map told us that there were wild horses and, like magic: there they were! Also: no one else was there! No cars. No one. We pulled over to the side of the road and took photos in the middle of the highway. Then Jackson thought we just HAD to take our clothes off and pose naked in the middle of the highway because that's just what we do. So we did. (No pictures here, sorry!).
Just before entering the town the sand really starts to pile up and we were driving through a foreign planet. The visibility dropped and we were in a snowy world of rock granules. It was unlike anything we'd ever seen before.
Luderitz itself was pretty meh. Some really nice colorful buildings and a lot of churches, but not much more to recommend itself. We opted to stay in an AirBnB rather than in a campsite because, like that proprietor had said: it was windy!
After checking in, the woman helping us made the passive comment: "the wind is our rain here!" I think she's right. Her colleague, a young, skinny man with an eager smile, added "Sometimes it gets so windy that you can't open the door of your car!" We got a dose of that the first night when we walked to dinner (it's pretty safe here, an easy place to walk around). The wind was really really whipping and we had to walk with our sunglasses on because the sand kept getting in our eyes.
The next day, we drove out to see Agate Beach, a place promising pretty stones for the careful observer. We stayed long enough to take a couple pictures. It was too cold to go in the water and no one was there. We didn't find any cool looking stones. Honestly, it felt really lonely and desolate.
But really: the draw of Luderitz is the tour that you MUST make at Kolmaskop, the deserted diamond mining town in the desert outside of town. This place is being reclaimed by the sand and as a result you get the most fabulous chance to explore a real ghost town.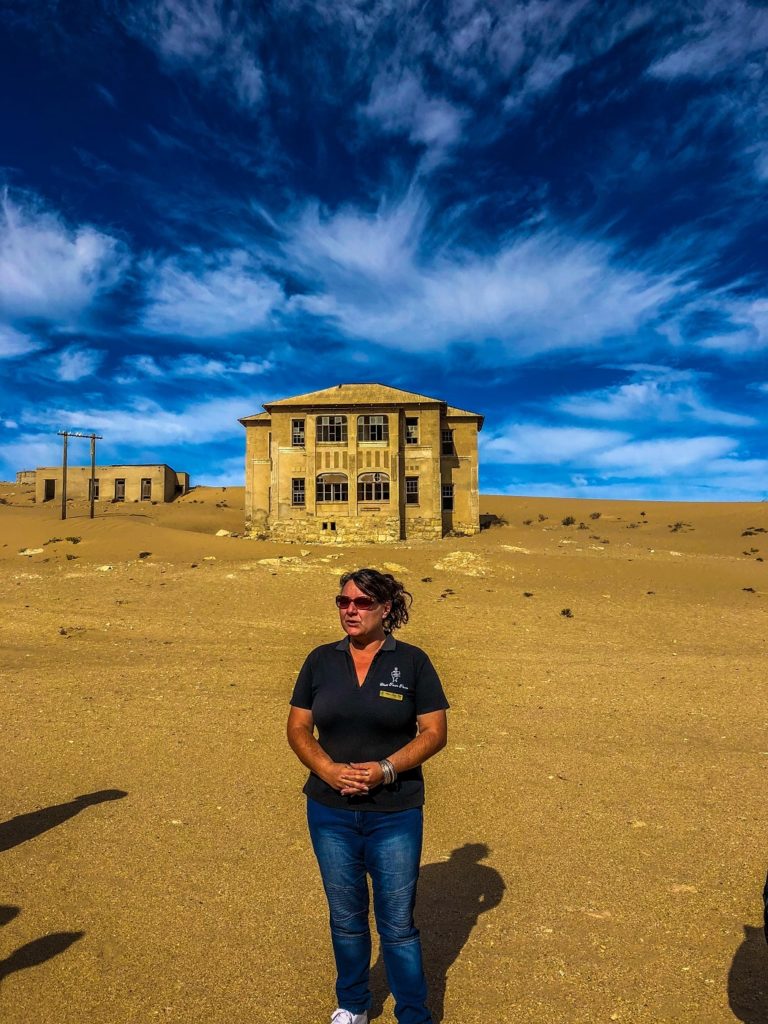 Despite the tourist draw (the most amount of tourists we'd seen in Namibia up to that point!), we really got a chance to explore buildings all on our own. The hospital was especially creepy!
In conclusion: Totally disagree with that lady at the padstal. This was a great drive and a great visit. We spent 3 nights in Luderitz and got a chance to relax and see some excellent landscape. Luderitz and Kolmanskop are a great reason to come out to the Southern coast of Namibia!
Tip #1: On the way toward Luderitz there is a wonderful little padstal that sells excellent Biltong. Biltong is a cured and dried meat sold throughout Southern Africa. It is like American Jerky, but that doesn't do it justice. It is delicious. Make sure you get yourself a bunch at the Padstal so you can chow down!
Tip #2! Don't forget to gorge yourself on oysters. They are grown off the coast of Namibia and were THE BEST oysters we've ever had. We paid about 11 Namibian dollars per oyster (about $1USD).